WONDERFUL RESORT SURROUNDED BY GREENERY
Garden Toscana Resort is located in San Vincenzo, an ancient Etruscan land and internationally recognized for its long sandy beaches bathed by the sea of one of the most beautiful stretches of Tuscany, surrounded by a rich territory both from the enogastronomical and cultural point of view, with beauties and unique attractions such as the Etruscan Coast, Pisa, Suvereto, Castagneto Carducci, Bolgheri and the wine roads and the archaeological parks of Baratti and Populonia.
The resort is inserted in an incomparable context, surrounded by a garden of 14 hectares characterized by rich Mediterranean vegetation.

The location and completeness of the services make it the ideal destination for a holiday of relaxation, sport and fun for everyone.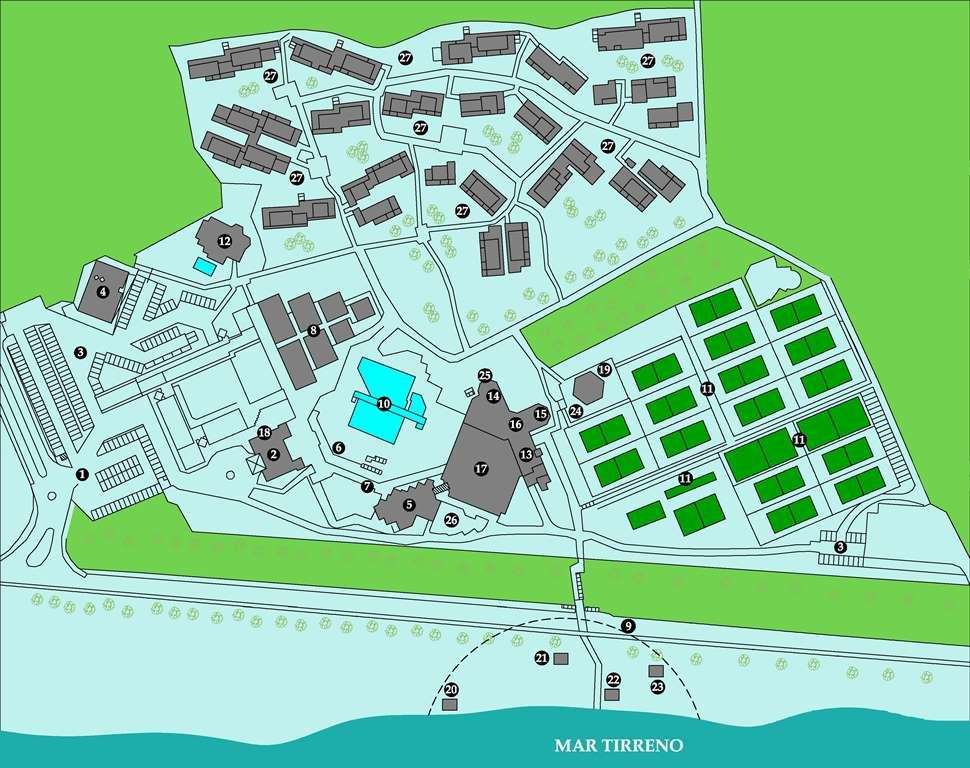 1. Entry
2. Reception
3. Parking spaces
4. Bistrot Gardenia
5. White Lounge Bar and TV Zone
6. Bar Pool
7. Garden Game
8. Melograno Restaurant
9. Secret Garden
10. Central Swimming Pool
11. Garden Sport Zone: Tennis Courts, Five-a-side Football, Bowls, Basketball, Volleyball
12. Garden World: Infant, Baby, Mini and Young Club, baby bottle, children's pool
13. Congress Center
14. Gym Fit & Fitness area
15. Infirmary
16. Beach towels exchange office
17. Garden Theater
18. Shopping Center & Boutique
19. Tennis Club
20. Wind Surf Area
21. The Garden Restaurant
22. Beach Life Bar
23. Green Fit & ndash; No Stress Area
24. Bicycle rental
25. Cavalleggeri SPA & Beauty
26. Agorà: Dance & Stretching Area
27. Accommodation